Going into August, we were expecting a pretty quiet month for Food Events in the tri-state area.  However, we were pleasantly surprised.  There are a few Food Truck festivals and even a Restaurant Week.  Here is a list of August Food Events in Westchester, Long Island, Northern New Jersey and Connecticut's Fairfield County.
connecticut food events
When: August 12, 2018 from 11am-6pm
Where: Allen's Meadows, Wilton, CT 06897
Trackside Teen Center of Wilton has organized a Food Truck Festival this summer! Enjoy delicious food from a variety of 20 different food trucks, craft beers, live music, kids' fun park including water slide, and more! Proceeds go to support Trackside Teen Center of Wilton! Admission is $10 per car.
When: Saturday, August 25 and Sunday, August 26, 2018 from 1-9pm
Where: Mill River Park, Stamford, CT
Come and enjoy the 2nd Annual Hey Stamford! Food Festival at Mill River Park in Stamford.  Featuring over food trucks, a beer garden and live music performances.  Ticket prices starts at $12.50 for single day passes and $20 for two day passes.
westchester food events
When: August 3, 10 and 17 from 5:30-8:30pm
Where: Cross County Shopping Center, 8000 Mall Walk, Yonkers, NY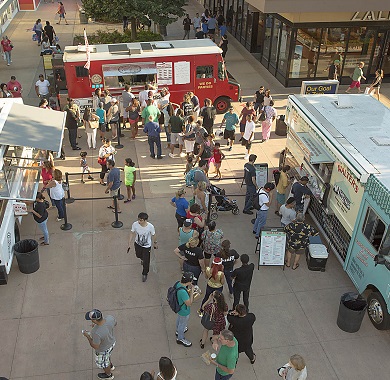 Join us for the 2nd Annual Foodie Fridays Festival with regional food trucks and music!  Different Food Trucks will be located throughout the entire mall each week and guests can enjoy music from the Summer Fest stage. Plus, enjoy tasty treats from mall eateries, also set up throughout the mall as well.  On August 3rd see the Jersey Pizza Boys perform – watch out for flying pizza dough!  On August 10th see the Rakiem Walker Project band perform on the Summer Fest stage. The RWP band is the house band at the Red Rooster restaurant, owned by famed chef Marcus Samuelson, in Harlem, NY.  Food Trucks will make a donation from weekly proceeds to Feeding Westchester. Feeding Westchester's mission is to end hunger in Westchester County.
When: Once a month on Fridays- August 10 from 5-9pm
Where: Scotts Corners- 56 Westchester Avenue, Pound Ridge, NY
Come to Pound Ridge to enjoy Food Truck Fridays & More.  Organized by Pound Ridge Partnership, the event will take place once a month in Scotts Corners section of Pound Ridge.  Popular New York and Connecticut food trucks will be stationed at 56 Westchester Avenue from 5:00PM – 9:00PM.  Aside from food trucks, there will be games and live music.
Long island food events
When: August 10, 2018 from 4-7pm
Where: Hayground School, 151 Mitchell Lane, Bridgehampton, NY
Indulge all of your senses and join us for a food truck feast in the Hamptons sun! This is your chance to enjoy the region's best mobile eats, paired perfectly with New York wine and beer, and refreshing non-alcoholic beverages, as well. Ticket price includes one serving at every food truck and three drinks for adults, and four truck tastes and one drink for children. The food truck coming together will coincide with the Hayground School Community farmers market and programming for kids and families. And the event will benefit the Hayground schoolyard projects in the region, which provide culinary arts training for local kids.
new jersey food events
When: August 4-12, 2018
Where: Participating restaruants in Bloomfield, NJ
It's that time of the year again, presenting the 7th Annual Bloomfield Restaurant Week.  More than 25 restaurants will participate offering lunch and/or dinner prix fixe.
When: August 25, 2018 from 11am-7pm
Where: 49 Woodland Avenue, Morristown, NJ
Come check out the 1st Annual Morristown Food Truck Fest! The event will feature lots of food trucks and vendors, as well as games and activities for children. Whether you want to grab a quick snack or bring the whole family and stay for the live music, this event has something for everyone!  Trucks include: Glazed and Confused Donuts, Cas' Pierogis and Keilbasa, Amanda Bananas, Ma & Pa's Tex Mex BBQ, Thai Food Addict, Jammin' Crepes, Angry Archies Crab Cakes, Cupcake Carnivale, Pizza Vita, Sterling Soda, Bro-Ritos, and many more!  Admissions is $5 for adults and $2 for children if purchased online before August 1st, after that admission fee increases to $8.00 for adults.  Tickets can be purchased at the door for $10 for adults and $5 for children.  The event is a fundraiser for Homeless Solutions of Morristown.
When: August 25, 2018
Where: 726 Raymond Blvd, Newark NJ
Come and enjoy some food, music and fun!  Grab a bite from one of the best food trucks in the area, be entertained by the NY Red Bulls freestyle crew!  Admission is free.
We hope you like this guide as much as we enjoyed putting it together.  We plan to publish monthly Food Event Guides.  Don't miss out, follow us on Facebook, Instagram or sign up to receive our monthly newsletter.
*All information were accurate when we were putting this guide together, however, please check with event organizer to verify that nothing has changed.