This is such an exciting time of the year for kids.  Lots of Halloween parades and festivals in NY, NJ and CT.  Here are the top family friendly halloween events in Westchester County, Northern New Jersey and Fairfield County.
Halloween in Fairfield County, CT
When: Sunday, October 28, 2018 at noon.  Parade starts at 1pm.  Park Street parking lot
Details:   One of New Canaan's most popular events is the Annual Halloween Parade. Leading the parade down Elm Street will be the Old Faithful Antique Fire Truck.  The fun kicks off at the park Street Parking lot at Noon stop by for a goody bag and to check out some great live music and entertainment for the kids! At 1:00 pm sharp the Parade heads down Elm Street where many local businesses will be outside their stores handing out Candy!  This event is sponsored by the New Canaan Chamber of Commerce.
When: Sunday, October 28, 2018 from 12-4pm at Museum Commons
Details: The Fairfield Museum and History Center, in partnership with the Town of Fairfield, are presenting the 3rd Annual "Halloween on the Green" event on Sunday, October 28 from 12-4pm on the Museum Commons nearby the Historic Town Green.  This family event will feature trick-or-treating, giveaways, displays in the historic buildings, food trucks, a bounce house and other kid-friendly activities.
When: Monday, October 29, 2018 at 3:30pm
Details: Children and parents will meet at Main Street and Post Road East at 3:30 p.m. This event is for all children, especially those 8 and under.  The parade will proceed up Main Street, turn right onto Avery Place, then turn left on Myrtle Ave to Town Hall and Veterans Green. Children may trick-or-treat along Main Street and in Town Hall.  Entertainment, refreshments and a small gift will be provided on Veterans Green across from Town Hall at 4:00 p.m.  Parade is presented by The Westport Parks and Recreation Department, the Downtown Merchants Association and Westport P.A.L.
When: Saturday, October 27, 2018 from 9am-4pm
Details: Westport merchants offer their windows for painting.  Kids will get the opportunity to paint a window requested or assigned to them. Judges will come around in the next few days and determine winners based on three different criteria and age/school (Elementary, Middle School, High School). 1. Scariest Art Work 2. Best Halloween Theme and 3. Most Original.  There will be 9 total winners.  Sign up online.
When: Wednesday, October 31, 2018
Details: Trick-or-treat at the Junior League of Greenwich® (JLG) house this year!  The JLG will open its spookily decorated doors on October 31, 2018, from 5 p.m. to 8:30 p.m.  Kids, pets and parents are all welcome to join in the fun, with refreshments for all (including candy, dog treats, and a little something for the grown-ups).  The JLG is located at the corner of Putnam Avenue and Park Place (231 E. Putnam Avenue), which is one of the best side streets for trick-or-treating in town, with fabulous haunted houses and more!  What a festive way to start or end your evening!  Parking is available at the JLG house, Putnam Cottage, First Church of Christ Scientist, or YWCA.
When: Friday, October 26, 2018 at 10:00am
Details: Wonderful parade for the pre-schoolers.  Dress up your little ones and bring a bag for trick-or-treating at the doors of local merchants along the way to Tilley Pond. Then join us for snacks and a special show with our favorite magician "The Amazing Andy." His magical talents will amaze you and your child, and his wonderful antics, humor and sleight of hand will keep even the youngest magic enthusiasts entertained. Meet at the parking lot next to the Darien Fire Station opposite Post Corner Pizza. Event is organized by The Darien Community Association.  Price: $5 per child.
When: Saturday, October 27, 2018 from 4-8pm at 303 West Avenue, Norwalk
Details: It's Stepping Stones annual trick or treat bash.  Play Eyeball Toss, Catapult Flies into a Creepy Spider Web, Boogie to the Spook-tacular Tunes, Play Halloween Bingo, Create your very own Monster.  Plenty of Prizes and Surprises! Tickets are $10 for members and $15 for non-members.
Halloween in Westchester County, NY
When: Wednesday, October 31, 2018.  Line-up will begin at 3:45 PM.  Parade will start at 4:00 PM
Details:  The parade will start and end at Chase Park. Special entertainment and refreshments will be provided by Lange's Deli. Preregistration is not necessary. Line-up will begin at 3:45 PM.  Parade will start at 4:00 PM
When: Sunday, October 21, 2018 at 12:30pm
Details: Line-up begins at 12:30 PM on the corner of Larchmont & Palmer Avenues and will start at 1:00 PM Sharp.
When: Sunday, October 21, 2018 at 10:30am
Details:  Starting with a holiday tradition, window decorating at 10:30AM, continuing with a costume parade, assembling at Mamaroneck and Halstead Aves. and marching to Harbor Island where the fun continues!  Ride the hayride to the Haunted House. Enjoy craft activities at the Kid's Korner and so much more! Brought to you by the Village of Mamaroneck Recreation Department and Mamaroneck Chamber of Commerce.
When: Saturday, October 27, 2018 at 5:30pm.  Rain Date is October 28, 2018.
Details: Parade will commence marching at Patriot's Park .  Then parade will proceed south on Route 9 (Broadway) and turn onto Main Street toward the YMCA.  Following parade, Main Street will be closed for the Block Party.
When: October 20, 2018 from 12pm-4:30pm
Details: Come to Greenburgh Parks and Recreation's Spooktoberfest at Hart's Brook Park and Preserve (156 Ridge Road, Hartsdale, NY).  There is a good line up of shows- music, magic, jugglers and comedy.  Enjoy Hay Ride, Bouncy Castles, Face Painting and Petting Zoo.  Parking and tickets at Ridge Road Park, Ridge Road, Hartsdale, NY.  Tickets are $6 per person (kids under 2 years old free).
When: Saturday, October 27, 2018 from 9am-2pm at New Rochelle Grand Market (1 Library Green)
Details: It's a Halloween party complete with a downtown parade, pumpkin painting, and (not-so-spooky) fun on Library Green.  Line-up for the annual Merchant's Urchins Parade begins at 9:45 am and parade starts at 10:00 am at New Street, New Roc City (in front of Regal Cinema).  Parade ends at Library Green, where the party begins. A DJ will be spinning great music for a spooktacular dance party. Pumpkin painting, Halloween crafts and other activities to follow! Free treat bags for those in costume. (In the event of inclement weather, the parade is cancelled and pumpkin painting will take place in the library's meeting room.)
Halloween in Northern New Jersey
When: Friday, October 26, 2018 from 6-8pm and Saturday, October 27, 2018 from 10am-2pm and 6-9pm at Bergen County Zoo in Paramus (216 Forest Ave)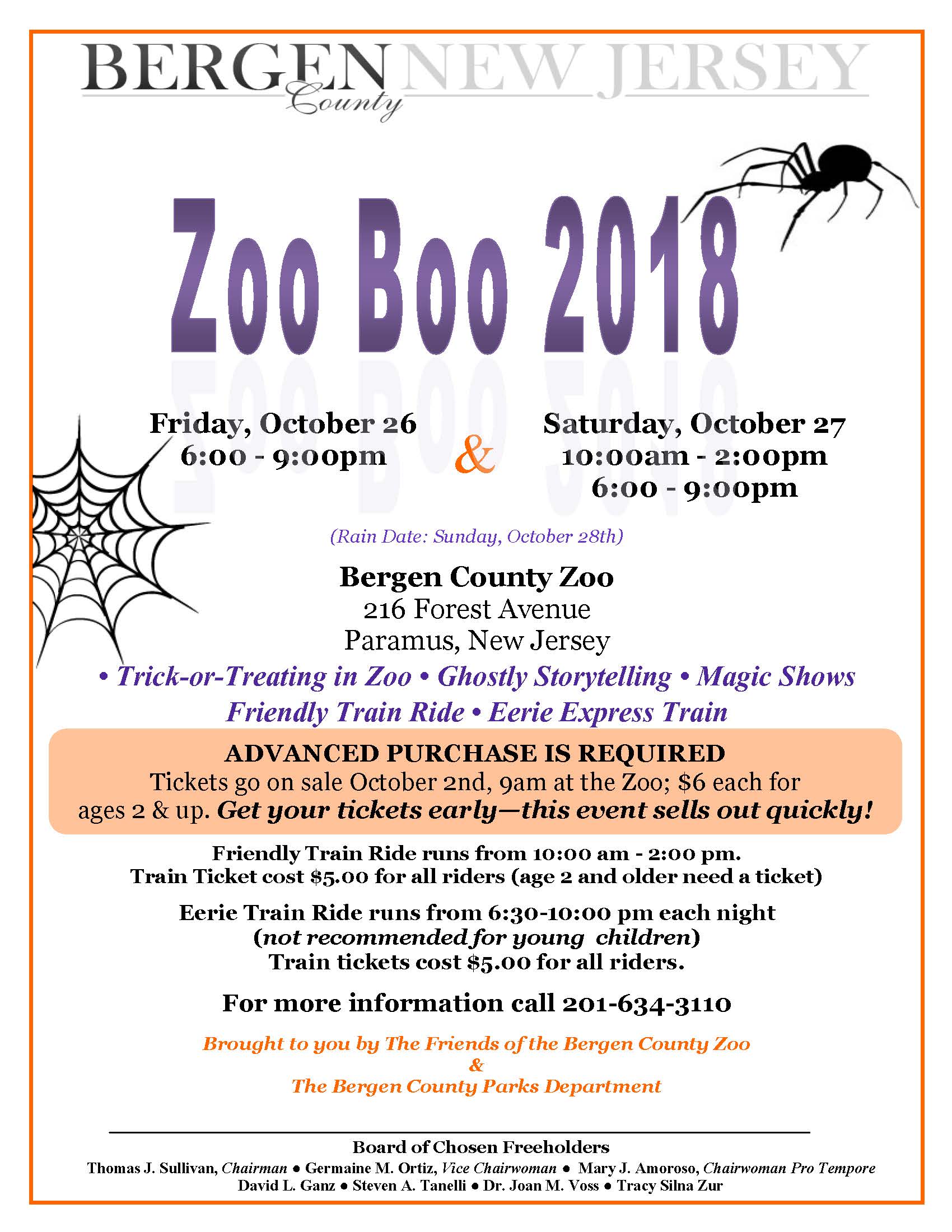 Details: Trick or treat, Magic shows, ride the eerie express and friendly trains.  Get your tickets early because tickets often sell out.  Rain date October 28.  Tickets are $6 each (under 2 years old is free).
When: October 31, 2018 at 3pm
Details: Line of march setup for the parade is on Washington St. & 13th Streets beginning at 3pm;
Costume contest at Little League Field on 5th St. & River Terrace. Prizes awarded for best costumes.
When: October 31, 2018 from 3pm-7pm (Newark Avenue, Pedestrian Mall)
Details: Have a ghoulishly good time on The Newark Ave Pedestrian Mall this Halloween! There will be face-painting, a bouncy house, music, popcorn and CANDY!
When: Wednesday, October 31, 2018 from 4pm-8pm (560 Northfield Avenue, West Orange, NJ)
Details: Come trick-or-treating at the Zoo. With candy stations throughout the grounds, everyone is sure to have a "sweet" time.  Zoo attractions such as train, carousel, touch tank and reptile house are open. Tickets are $5.00 (children under 2 years old are free).
When: Wednesday, October 31, 2018 from 3pm to 4:30pm at Bank of America (1959 Mountain Blvd)
Details: March down Mountain Blvd with a marching band and the Wells Fargo Bank Stage Coach
When: Saturday, October 27, 2018 several time slots from 4pm- 6:15pm
Details: We love this Halloween alternative so much we just had to include it even though it is not your traditional Halloween event.  Meet several live nocturnal animals and learn how animals adapt to their environment.  Tenafly Nature Center Environmental Educators will lead small groups of all ages on the trails to visit the "haunts" (a place frequently visited) of these nocturnal forest denizens.  Designed to be entertaining and educational- not scary.  Tours take 1.5 hours after which participant can enjoy refreshments and crafts around the campfire.  Space is limited, pre-registration is highly recommended.
You may also be interested in:
Where are the Best Places to Trick or Treat in NY, NJ and CT? 
7 Must-Do Fall Activities for Families by Marissa Millman
Private School versus Public School
How to Boost Your Chances of Getting Into Private Schools
Be sure to Follow Us on Instagram, Like Us on Facebook for the latest updates and subscribe to our Monthly Newsletter.
*All information were accurate when we were putting this guide together, however, please check with the event organizer to verify that nothing has changed.