When people ask what my favorite season is, I have a hard time deciding. If I'm being completely honest, my favorite time of the year is when a season morphs into another one. At the slightest hint of a change in temperature, I get giddy with excitement. The summer-to-fall transition is a particular favorite of mine, since September usually welcomes the first hints of crisp air and allows for more layering. Out with the pastel patterns and gelato brights, and in with the warm jewel tones and earthy neutrals of autumn. Beautiful textures like cashmere and velvet make appearances once again, and I put sandals back in their boxes to make way for boots. This fall, I'm particularly excited about the range of trends that I've been seeing. From ultra-femme fads like teeny bags and collarbone-exposing necklines, to the more androgynous details of suiting and leather work, there's something new out there for everyone. Let's talk about some of my most anticipated pieces for the coming fall…
Capes for Days
Channel your inner superhero this season with a sophisticated cape silhouette. I say "silhouette" because capes take form in a variety of garments, including dresses and tops. A chiffon or silk caped shoulder is an elegant alternative to the simple sleeveless sheath during fall wedding guest season. Elevate your event look even further by opting for a cape-shoulder jumpsuit or pant suit. The feminine timelessness of a cape is a great compliment to something more menswear-inspired like a trouser. Dressing down? Take the trend for a casual spin with a wool or cashmere blanket cape over a cozy turtleneck and jeans combo. Accessorize your soft and warm look with some chunky jewelry for contrast.
Stylist tip: When putting away your caped garments, either fold and store in a lined dresser drawer, or hang over a 2.5″ flared-end coat hanger to avoid fabric puckers.
Margarita Cape Dress by Borgo De Nor
Double Face Wool Cape by SOIA&KYO
Lots of Leather
The upcoming year will absolutely be the year of the leather. Leather-on-leather looks, in particular. Some shoppers are afraid of the material's reputation, and for them, I say it's all about finding the pieces that work for you and your wardrobe. Pairing a cropped leather top with a high waisted leather skirt is a chic look for a night out. A leather jacket over a top with leather embellishments and leather leggings is a great option for colder months. Create balance in your outfit with a pop of color or white somewhere, like a shoe or blouse. Play around with soft textures in particular if you like outfits with a strong juxtaposition. If you prefer vegan leather to real leather, there are quite a few brands out there that do beautiful versions of faux. Some of my favorite brands for high quality options include Matt & Nat as well as BLANKNYC.
Cropped Two-Tone Leather Top by 16Arlington
Vegan Leather Pencil Skirt by Banana Republic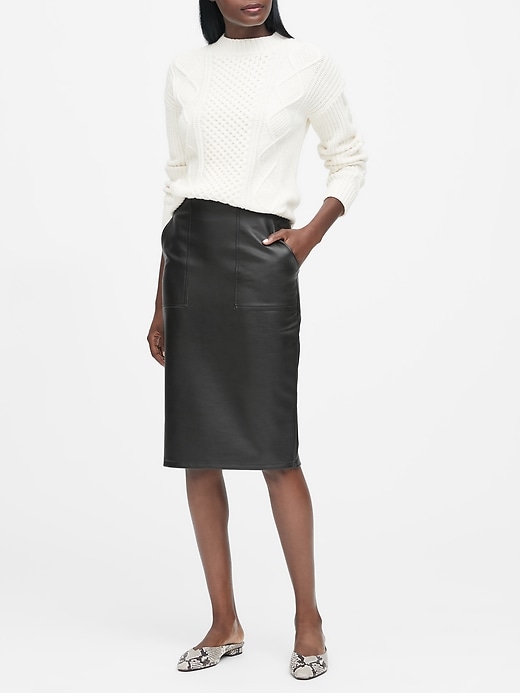 Asymmetrical Necklines
Personally, I believe the power of the neckline is underrated. It's easy to find a crew neck or a deep-v anywhere you go, but when a designer can successfully create a sophisticated asymmetrical neckline? That's when I'm impressed. The "negative" space that frames your face is extremely important, and oftentimes goes ignored. You can actually transform a basic garment (or even your entire look) without relying on embellishments or patterns, since it's all in the drape and the cut. When a beautifully draped cowl neck seamlessly turns into a braided strap, or when a sleeve's mirrored side doesn't exactly match, it's a subtle way to stand out from the crowd without drawing too much attention. Whenever I rock a neckline like one of these, I feel sexy, elegant, and just plain cool.
Stylist tip: Go minimal or nix the necklace all together here. The neckline will speak for itself, so try opting for a statement earring or hair piece instead.
Harmony Midi Dress by NBD
Martin Tee by LNA
Pretty in Plaid
Cher Horowitz already had her moment last fall as the comeback style icon, but the plaid trend has proven that it's here to stay – at least for a while. As stores replace summer items with fall, I'm seeing a myriad of tartan plaid and checked patterns popping up again. You can incorporate this trend into your wardrobe with a classic piece like a trench coat or blazer if you associate yourself with more a timeless style. If you prefer to take a few more risks when it comes to your clothes, try a plaid bodysuit under a textured blazer or a checked shoe as a statement accessory.
Stylist tip: If you're going to mix your plaid with another pattern, make sure that one of the prints is micro (small/mini) and one of the prints is macro (large scale) so they don't fight each other as star of the show.
Classic Mini Skirt by Wilfred
Kylie Plaid Long Jacket by Alice + Olivia
Teeny Tiny Bags
And we're talking teeny. Some designers like Brandon Maxwell and Jacquemus have released bags so small that they barely fit a pair of AirPods. Practical? Not really. Adorable? Absolutely. Tiny enough to fit in the palm of your hand, these absurd accessories have been sweeping runways and stores' shelves alike. It's the novelty that makes them so popular, which is why I'm hesitant to invest as much money as I normally would in a standard size handbag. That doesn't mean I don't want one, though! Some of the most popular fast fashion stores are coming out with their versions of the tiny trend, at crazy-affordable prices that don't leave you in a heap of guilt after swiping your card.
Animal Print Mini Bag by Zara
Earthette bag by Zac by Zac Posen
Suiting Genius
Chanel, Ganni, Tom Ford, Theory, Sandro – just a few of the dozens of designers that have mastered the women's suit separates. Whether you shop at Bergdorf's or Banana Republic, you're able to find a suit that matches your style and personality. Suit separates in particular have risen in popularity in the last decade or so, but more recently they've been appearing as street wear and casual wear. Suits come in such a large variety of patterns, styles, and fabrics that it can be overwhelming at times to shop for them. All I have to say is that if you invest in perfect-fitting suit separates, your wardrobe options expand exponentially. And if you're like most people and can't find the perfect fit off the rack, it's so important to have your suit tailored. Suiting is all about the lines and the fit, so everything from the shoulder width to the button stance will affect how the suit drapes on the body. Dress down your blazer with a t-shirt and jeans, or dress up your suit pant with a stiletto and lace top. If you're looking for something a bit more daring, there are other options out there like suit short sets and blazer-inspired dresses. Play with shape by cinching in your waist with a belt, or leaving the waist button closed over a more casual look. Options are endless with this one, so what are you waiting for? Go shopping and get inspired!
Stylist tip: No matter where you get your suit, always have the jacket dry cleaned. You can usually get away with 4 or 5 wears before needing it cleaned, but a washing machine will often destroy the integrity of the construction. Trousers or skirts on the other hand? Feel free to delicate wash and line dry at home.
Beatrix Red Textured Jacket by Reiss
Beatrix Red Textured Short by Reiss
Blanket Dressing
Now this trend isn't for everyone, but if you're a style risk taker and a trend fiend, this one is definitely for you. There's something very whimsical about the patchwork quilt trend, and I'm here for it. Remember the quilted blanket that you grew up with? The mismatched pattern of leftover fabric scraps and hand-stitched piping? Dip into that nostalgic feeling with a quilt-inspired garment. Oscar de la Renta and Louis Vuitton got the trend memo early, and other designers are now following in step. Especially popular with jackets and coats right now, this trend is more niche and often ends up being the statement piece of your outfit. The key to styling your new patchwork piece is to style it down with basics. Think solid colored tees or word tees, deconstructed jeans, unembellished denim jackets, sleek sneakers, and other understated clothing and accessories. Since there is usually a multitude of prints in one quilt work piece, you won't need other supplemental patterns. Add a pop of color like a leather belt or mini bag, and a harder element to contrast the softness of the quilt look. Hardware jewelry or an acetate box bag are two trending items that would be perfect to modernize your blanket ensemble.
Patchwork Shirt by Tory Burch
Kiki Patchwork Knit Top by Paper London
About Tina Broccole
Tina Broccole is a NY Fashion Stylist, Influencer, and Radio Talk Show Host of "Fashion Friday with Tina." She has been involved in the fashion industry for over 2 decades, first as stylist for a major retailer, then as an entrepreneur of her own styling business, Style by Tina, while adding radio show personality and fashion commentator to her resume. Catch her weekly radio show and podcast every Friday at 9:30am on 1490-WGCH radio. Website: Style by Tina Blog: Wardrobe Envy Instagram: @wardrobe_envy
About Suburbs 101
Suburbs 101 is an online lifestyle guide for the New York Suburbs of Westchester County, Long Island, Fairfield County and Northern New Jersey. Get the inside scoop on what it's really like to live in the New York suburbs through our weekly interviews with local suburbanites and features on Food, Fashion, Home, Travel, and Local Events. Be sure to Follow Us on Instagram, Like Us on Facebook and subscribe to our Monthly Newsletter.
You may also be interested in:
Where to go for Oktoberfest in the NYC Tri-State area
5 Shortcuts to an Organized Home – without losing your mind and spending all day doing it
Ultimate Weekend Getaways from New York's Tri-State area
Look fabulous on the beach- how to pack for a beach vacation
Follow us on Instagram, Facebook and subscribe to our Monthly Newsletter.